The Philadelphia Eagles' 2019 season ended with a 9-7 record. They won their final four games to salvage a season decimated by injuries to take the NFC East crown. Quarterback Carson Wentz exited the NFC Wild Card game against the Seattle Seahawks early with a concussion, and it proved to be devastating. The Seahawks won 17-9 as the Birds offense couldn't get it together without Wentz.
The Eagles opened last season with odds of -125 to win the NFC East and +1400 to win the Super Bowl. For the Philadelphia Eagles' 2020 season, Pennsylvania online sportsbooks favor the Dallas Cowboys (-130) to win the NFC East over the Eagles (+130).
Sportsbooks list the Baltimore Ravens (+650), Kansas City Chiefs (+650) and San Francisco 49ers (+600) as the favorites to win Super Bowl LV. The Eagles' Super Bowl odds are +1900 ahead of Week One.
PA online sportsbooks have a packed playbook of betting markets for all 32 NFL teams. Philadelphia Eagles bettors have lots of choices when deciding how to wager on the team this year, with more options than ever.
Philadelphia Eagles 2020 season preview
The Eagles won their first Super Bowl in 2018 after going 13-3 earning the No. 1 seed in the playoffs. Since then, the Eagles have been riddled by an aging roster, injuries and a 1-2 postseason record.
Departures:
Fired offensive coordinator Mike Groh and wide receivers coach Carson Walch
Released DB Malcom Jenkins
Arrivals:
Signed DB Nickell Robey-Coleman
Acquired WR Marquise Goodwin from 49ers (Goodwin opted to not play this year due to COVID-19)
Signed DT Javon Hargrave
Top draft picks: Jalen Reagor, WR (Rd. 1), Jalen Hurts, QB (Rd. 2), Davion Taylor, OLB (Rd. 3)
Injuries:
OL Brandon Brooks (torn left Achilles) out for the season
WR Alshon Jeffrey (foot surgery). Placed on Active/PUP list in July. If he isn't cleared to play before the start of the season, he will be out until Week Seven
WR Jalen Reagor (shoulder tear) out for four weeks (8/31)
TE Josh Perkins was placed on the injured reserve (8/26)
Philadelphia Eagles 2020 odds tracker
(Odds via FanDuel Sportsbook)
| | Sept. 1, 2020 | Oct. 16 (Week 6) | Oct. 20 (Week 7) | Oct. 28 (Week 8) | Nov. 3 (Week 9) | Nov. 10 (Week 10) | Nov. 17 (Week 11) | Nov. 24 (Week 12) | Dec. 1 (Week 13) | Dec. 8 (Week 14) | Dec. 15 (Week 15) | Dec. 22 (Week 16) |
| --- | --- | --- | --- | --- | --- | --- | --- | --- | --- | --- | --- | --- |
| Super Bowl | +1900 | +6500 | +7000 | +5000 | +5000 | +4700 | +8500 | +8500 | +12000 | +25000 | +21000 | +21000 |
| NFC Championship | +1000 | +3200 | +2800 | +2800 | +1900 | +1700 | +2400 | +3700 | +4900 | +13000 | +8500 | +8500 |
| NFC East | +130 | +130 | +140 | -165 | -280 | -350 | -165 | +145 | +230 | +1400 | +600 | +550 |
Philadelphia Eagles team betting markets
Regular-season total wins (all 16 regular-season games must be played)
FanDuel: Over 9 (-110)/Under 9 (-110)
DraftKings: Over 9 (-134)/Under 9 (+110)/Over 10.5 (+220)/Under 10.5 (-278)
Unibet: Over 9 (-134)/Under 9 (+110)/Over 10.5 (+220)/Under 10.5 (-278)
NFC Wild Card
DraftKings: Philadelphia Eagles +300
To make playoffs
(Bets are action if season shortened, void if season canceled or there are not seven playoff teams per conference.)
FanDuel: Yes (-188)/No (+154)
DraftKings: Yes (-177)/No (+144)
Unibet: Yes (-177)/No (+144)
Exact division finishing position
FanDuel: First (+140), Second (-105), Third (+550), Fourth (+2000)
DraftKings: First (+150), Second (+105), Third (+600), Fourth (+1200)
Unibet: First (+150), Second (+105), Third (+600), Fourth (+1200)
Team to win most games (excluding playoffs)
DraftKings: Pittsburgh Steelers (+100)/Philadelphia Eagles (-121)
Team to finish with best record overall in regular season
(All teams must play 16 games for action.)
FanDuel: Philadelphia Eagles +1300
Philadelphia Eagles go 16-0 odds
DraftKings: +12500
Unibet: +12500
Team with worst record
FanDuel: Philadelphia Eagles +9000
Eagles first win
FanDuel: Week One at Washington (-300), Week Two vs. Rams (+320), Week Three vs. Bengals (+850); full odds listed on app
Most games won
DraftKings: Philadelphia Eagles +1600
Fewest games won
DraftKings: Philadelphia Eagles +7000
Team to score the most points
DraftKings: Philadelphia Eagles +1400
Team to score the fewest points
DraftKings: Philadelphia Eagles +4000
Team to concede most points
DraftKings: Philadelphia Eagles +2800
Team to concede fewest points
DraftKings: Philadelphia Eagles +2800
Team to record most sacks
DraftKings: Philadelphia Eagles +2000
Team to record most interceptions
DraftKings: Philadelphia Eagles +2000
For more on Eagles betting for 2020, check out this preview from TheLines and PlayPicks: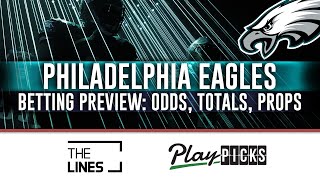 Lead image credit: AP Photo/Chris Szagola