Best Online Casino Apps in PA
Legal online casinos in Pennsylvania mean you can now turn your phone into a mobile casino available 24/7. The top PA online casinos all have apps available to download to smartphones and tablets, so you can easily play your favorite slots and table games from anywhere in PA.
This page covers how you can download and install an online casino app to your iOS and Android phone or tablet, what games you can play, and a detailed account of the features that Pennsylvania casino apps provide.
Top real money gambling apps in Pennsylvania
Rank
Casinos
Bonus
Features
Play
Android gambling apps
Most legal, regulated online casino apps are available for download in the US Google Play Store. But if you can't find it there, you can download via the online casino's website. You'll see an Android download link, click on that, and then follow the prompts to download and install the app.
To download an app directly from the casino site, you may need to go to your device settings and enable downloads from "unknown sources," but the download and installation process will still take just a few minutes to complete.
Pennsylvania online casino apps for iPhone and iPad
Most Pennsylvania online casinos are coded in HTML5, but these days, if they want iPhone and iPad users to be able to download and install their apps, they need to build them separately on the iOS platform, as well. Most casinos in the state have done this, so Apple device users can take advantage of their mobile gambling offerings.
When you click the Apple download link on a casino website, you should arrive directly at the correct page on the App Store, and you can download the app from there. For the most part, iOS devices should allow downloads from any source, but check your settings if there's an issue.
Benefits of casino apps
This short video explains the top five ways real money casino apps pay off for players: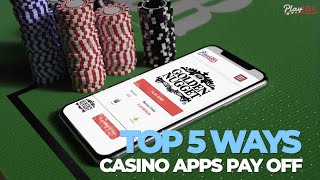 Best Pennsylvania casino apps for 2023
Pennsylvania has one of the most robust online gambling markets in the country, with dozens of top tier apps available for residents 21 or older. The best PA casino apps offer generous bonuses for new customers who sign up through the links on this site. We include welcome bonus details along with best features of the top PA apps here.
BetMGM Casino
BetMGM is the online gambling arm of MGM Resorts, one of the world's largest casino companies. BetMGM casino boasts likely the largest selection of slots of any PA online casino with nearly 350 titles. It also has 13 jackpot slots with exclusives like Mirage Mega Magma and MGM Grand Millions. BetMGM online casino also has more than 35 table games. Some exclusive table games at BetMGM are Sixers Blackjack, Steelers Blackjack and Roulette, and BetMGM Blackjack Pro. Live dealer games are available at BetMGM online casino in PA.
When you sign up using the code PLAYNJFREE, you'll be eligible for BetMGM's $25 Freeplay® join bonus and 100% deposit match up to $1,000 for new players.
BetRivers Casino
BetRivers online casino has a huge slot library of over 320 titles. It also hosts regular slot tournaments online. Here you will find popular progressives like Divine Fortune and Mercy of the Gods. BetRivers online casino has 15+ table games and Live Dealer including an exclusive BetRivers live dealer Blackjack game.
The app's connection to the BetRivers sportsbook app is seamless. Signing up with the promo code PLAYCAS will get you a deposit match bonus of 100% up to $250. The bonus funds come with just a 1x playthrough requirement.
Caesars Casino
There are few casino brands more famous than Caesars. Its online casino in PA has more than 180 online slots, 12 table games and live dealer. Table games include Blackjack, Roulette, Baccarat, 3 Card Stud and Casino War. When you play online, you can earn Caesars Rewards, an industry-leading loyalty system.
Sign up using the promo code FREEC10 to be eligible for $10 Bonus Play, plus Caesars' 200% first-deposit match up to $200.
DraftKings Casino
DraftKings online casino is available in PA. It is packed with about 200 slots. It has tables games you'll find at other online casinos and DraftKings-branded games like retro blackjack and baseball blackjack. DraftKings has live dealer and the minimum bet for Blackjack is $25 at various tables. It also has Infinite Blackjack which lets you play for a $1 minimum.
The DraftKings Casino app also offers access to the sportsbook, and you'll be eligible for a Casino Credit of $35 in your account when you sign up. Along with the bet credit, when you make your first deposit of $5 or more, you have the option to get a 100% match up to $2,000 with a 15x playthrough, or a deposit match up to $100 in Casino Credits with just a 1x playthrough.
Borgata Online Casino
Atlantic City's Borgata Casino has made the move to Pennsylvania, at least online. It's basically a rebranded BetMGM product with an online casino app. At Borgata online casino in PA, you'll find about the same 350 slot titles and 35 table games. you would at BetMGM online casino.
It offers a similar $20 bonus plus a 100% first-deposit match up to $1,000 when you use the PLAYNJ promo code on sign-up.
FanDuel Casino
FanDuel launched in Pennsylvania via a partnership with Valley Forge Casino Resort and has over 130 slots and 15 table games with progressives like Divine Fortune and Mercy of the Gods. FanDuel has online casino Live Dealer with about 12 tables at varying minimum bets available. Roulette and poker are also available for live dealer play at FanDuel.
Plus, FanDuel's casino app also allows access to its online sportsbook. Sign up through the link above to get up to $2,000 back if you're down after your first day.
To claim: New users must place their first bet up to $2,000 within 24 hours to receive the site credit bonus.
Unibet Casino
A trusted European casino brand that launched in Pennsylvania through a partnership with Mohegan Sun Pocono, Unibet has a game library with over 175 online slots and the popular Jackpot Shores and Divine Fortune progressive slots. Unibet PA casino also has your favorite games and also Diamond Series Roulette and I Heart Suits Poker. If you are an Eagles or Steelers fan, you should check out Unibet casino. It has Steelers Live Dealer blackjack and a Philadelphia Eagles branded slot and game of Blackjack.
Unibet's online casino offers a $10 bonus when you join and a 100% matching bonus up to $750 on your first deposit when you sign up as a new customer using code PLAY750.
PokerStars Casino
More than just online poker, PokerStars online casino has 100+ slots and 20 table games. For a new customer bonus, anyone who signs up via the link will get an offer of Bet $1 Get $100 Bonus Play. Just make sure you opt-in to take advantage of PokerStars welcome offer.
PokerStars online casino has progressive jackpot slots like Divine Fortune and Mercy of the Gods. It also has a full suite of offerings for Live Dealer.
Betway Casino
Betway Casino is now live in Pennsylvania and a quality option for bettors. The online casino launched in June 2021 thanks to a partnership with Live! Casino Hotel Philadelphia, a resort in the Philadelphia Stadium District.
The online casino offers a full range of casino games, covering online slots, blackjack, video poker, roulette and baccarat. Players can access the site via its website or app, so you can play games on the go, as well.
In addition, Betway is offering new users a matching bonus on their first deposit. Simply use one of our links to take advantage of 100% up to $1,000 On Deposit.
What games are available for casino app users?
Technology has come a long way in the last 20 years or so. Casino games have come to life, growing in variety and production value. Plus, advances in gambling tech have allowed casinos to bring a similar experience to customers online. In many cases, the lines between brick-and-mortar casinos and online casinos have become quite blurry.
Slots
The most ubiquitous and basic of casino games, the slot machine is widely available in every format. Even if an online casino doesn't offer other types of games, it will have slots. In fact, many free-to-play apps offer slot play exclusively, even without any tangible rewards available. The experience of winning on a slot machine is enough of a prize to draw attention from some players.
These days, online slot play is mostly indistinguishable from live slot play. The rotation of the reels, the virtual layout of the game's controls and the bonus features all perfectly mimic the games you find in a real casino.
The games are very often the same ones available in live casino settings, as well. Since most casino slot machines use computer programs in a large slot cabinet, game developers have had to transition their offerings to the smaller online format, but most have done so successfully, without having to create entirely new games. The only significant difference is the interface. Mobile devices and laptops do not have the same "push-button" system as live casino slot machines.
Instead, for online casino app players, there are virtual representations of the buttons, and mobile-specific finger commands such as swiping one direction or another to change the screen or a pinching motion to zoom in and out. Mobile slot machines may also be even more interactive, with some featuring group and community bonuses, which bring players from individual games into a single bonus round. It also is possible that mobile slots are faster, with the virtual aspect of placing money into a machine speeding things along.
Finally, in terms of graphics, mobile slots are limited to the restrictions of the medium itself. Several live slot machines now offer 3D-enhanced visuals, which might be a step beyond the capabilities of most phones and tablets. All that said, the slots you can play on a mobile device don't differ too much from the ones you can play in a brick-and-mortar casino. That means you should exercise the same level of caution when playing. Casino companies have built empires out of slot machine revenue, so budget accordingly.
Video poker
Often sitting alongside slots in a casino, video poker provides a change of pace for slot players without getting them too far away from the one-armed bandits. This relationship holds true in the mobile gambling world, as well. Video poker is usually in an online casino's list of games right next to the slots.
Video poker on a casino app is virtually indistinguishable from its real-life counterpart. Since live video poker works with a computer display, as well, the game and its simple graphics translate easily to the online space. However, in all cases, you should be mindful of the payouts for video poker games.
Ideally, the most common video poker game, Jacks or Better, would pay out full houses and flushes at 9x and 6x the buy-in, respectively. These "full pay" machines are far less common these days, but it pays to shop around a bit, as you can still sometimes find them.
Blackjack
Table games are a less-common offering on many online casino apps. Quite simply, translating table games to smaller mobile screens can be more of a challenge than it is with slots.
Of all the table games out there, real money blackjack is one of the more common to appear in online casino selections. The game's inherent simplicity reduces the need for more complex animations and calculations. Like video poker, the game and its simple graphics translate easily to the mobile space
As a result, mobile versions of blackjack deliver something similar to the live blackjack experience. The main difference is that players press buttons to make choices, rather than using live blackjack's hand gestures. Most versions will feature animations that show the dealing of cards, handling of chips and so forth. However, these are stylized depictions, not simulations.
Roulette
Roulette has started to appear more frequently online in recent years. Seeing its popularity rise, SugarHouse launched multiple versions of the game shortly after the site's debut. Most video graphic depictions of roulette are going to feature top-down or slightly lower views of the gameboard. Players can use their cursors or touch to select the wagers they'd like to place.
One source of difficulty, however, is making sure that the wagers appear in the correct spots. The placement of the betting token must be precise in roulette because each area of the board represents a different wagering option. Most representations of the wheel itself will also show a top-down perspective.
Perhaps the greatest benefit of online roulette is that gameplay moves at a faster rate than live roulette. Players must be quick with their wagering, but the payouts are instantaneous, quickly moving the game along from spin to spin.
Craps
It's rare to see online craps on a casino app. The sheer complexity of animating both a craps pit — with its many bets — and the rolling of dice constitutes a big ask for most mobile gambling developers. Craps is also a more daunting game for many patrons. Although it is popular, there is a learning curve that many mobile players won't want to overcome.
Furthermore, the online version of craps negates one of the defining features of the live game: the camaraderie. More than any other table game, craps is social, with groups of people betting the same way against the house. While the representations that you'll find online may get the function of the game right, they struggle to capture what makes craps great. That makes online craps less popular than the live game, giving apps another reason to ignore it.
Live dealer games
Live dealer games are a far more interactive experience than seems possible with mobile gambling, yet here they are. Players can chat and interact with actual dealers and other online players. The dealers run the games in real time from a studio, and the action is simulcast out to computers and mobile devices for players to place their bets.
There's no real difference between land-based play and online play because the dealers are dealing live games. Naturally, that means that live dealer games don't move at the same pace as automated versions. The dealer has to allow players time to make their decisions from around the state. However, the payouts are instantaneous.
The ability to chat with the dealers and other players mitigates some of the lonely aspects of online gambling, so extroverts who want to play on their phones have a natural reason to check out live dealer games.
Are online casino apps safe?
The ability to connect and engage in various activities online is one of the major triumphs of our time. Unfortunately, that has also opened the possibility of those with ill-intent infecting or stealing information from us. The natural question is whether online casino apps are safe. The short answer is yes, they are if they are regulated by the Pennsylvania Gaming Control Board.
The Pennsylvania Gaming Control Board oversees gambling activity in the state, and it maintains strict controls over the identities and behaviors of those who offer online and mobile gambling in the Keystone State. Site operators are also multinational companies with multiple properties throughout the US and the world. Much like their land-based counterparts, online casinos have a vested interest in ensuring the safety of their patrons, both in banking and in play.
There will be an occasional incident, but there is no need to feel unsafe while playing with approved and licensed casino apps in Pennsylvania.