Gambling is more prevalent in Pennsylvania than ever before. These days, casinos can be found all over the state, while online gambling options now include everything from sports betting to slots through online casinos.
Gambling is meant to be a source of entertainment. It should be fun. However, Pennsylvania takes the issues surrounding compulsive and problem gambling quite seriously.
Part of the Pennsylvania Gaming Control Board (PGCB) mandate is, therefore, to support responsible gambling and make outreach for problem gamblers a priority.
The 2017 casino expansion laws that made online gambling legal in PA also ensures new online gambling operators contribute to the state's Compulsive and Problem Gambling Treatment Fund. This fund supports that effort.
The PGCB recognizes March as Problem Gambling Awareness Month. In addition, the PGCB spreads the message all year long that problem gambling can affect people of all ages, races and backgrounds. Plus, help is always available.
The PGCB also runs a 24/7, free and confidential helpline and a self-exclusion program. These offer problem gamblers at least some tools in combating their issues.
Furthermore, the PGCB offers all sorts of information aimed at helping problem gamblers and providing support for their families and friends. Plus, connections to a variety of groups and organizations who offer their help.
On this page, we'll subsequently discuss responsible gambling, problem gambling and what resources are available through the PGCB and other avenues to help Pennsylvanians struggling with compulsive, problem gambling.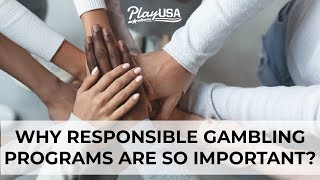 Understanding responsible gambling
Responsible gambling is an idea born out of the view that gambling is a source of entertainment and anyone who takes part should always understand the risks involved. Ultimately, however, responsible gambling is about staying within affordable individual spending limits and ensuring gambling doesn't cause any personal harm.
In other words, winning should be considered a fun bonus and losses should always fit within a person's budget. A night out at the casino shouldn't be much different from any other night on the town. Online gambling should also be about fun first.
Those that cannot maintain a responsible gambling attitude may be at risk from compulsive and problem gambling.
The concept of responsible gaming is one that gambling operators, suppliers and service providers in PA are all committed to upholding. It's their job to ensure patrons enjoy a fair and safe gaming experience and that they are protected from the adverse consequences of gambling as much as possible.
That means gambling services in PA are provided responsibly. This requires both land-based and online gambling operators in PA to:
Protect vulnerable customers
Prevent underage gambling
Protect against fraud and criminal behavior
Ensure information is kept private
Deliver prompt and accurate customer payments
Deliver a fair gaming experience
Employ ethical and responsible marketing campaigns
Ensure a high level of customer satisfaction
Provide a secure, safe and reliable gambling environment
Land-based and online gambling operators in PA do this through the following:
Provide information about the risks of gambling and ways to gamble responsibly
Train staff to recognize and step in when players are showing signs of problem gambling
Educate staff to identify problematic alcohol consumption and step in
Avoid marketing campaigns that target high-risk or problem gamblers
Related responsible gambling news:
Rules for responsible gambling
The PGCB provides the following 10 rules for gambling responsibly:
If you gamble, do so for entertainment purposes. If gambling is no longer enjoyable, ask yourself why you are still playing.
Treat the money you lose as the cost of your entertainment. Treat winnings as a bonus.
Set a dollar limit you can afford to lose and stick to it. Do not change your mind after losing it.
Set a time limit and stick to it. Leave when you reach the time limit, whether you are winning or losing.
Expect to lose. The odds are you will.
Do not gamble on credit or borrow money to gamble.
Create balance in your life. Gambling should not interfere with or substitute for friends, family, work or other worthwhile activities.
Don't chase losses. The chances are the more you try to recoup a loss, the larger it will become.
Don't gamble to cope with emotional or physical pain.
Educate yourself about problem gambling and heed the warning signs.
Understanding problem gambling
Players who can't stick to essential responsible gambling habits may be at risk for compulsive or problem gambling.
Problem gambling includes a wide range of behaviors. These include but are not limited to making irresponsible and risky bets and compulsive wagering that disrupts things at home or work. Problem gamblers often also display addictive behavior that might do damage to their savings, job or personal relationships.
Unfortunately, problem gambling can be challenging to diagnose. The PGCB provides the following problem gambler signs by asking if you or someone you know is:
Preoccupied with gambling?
Secretive about gambling and defensive when confronted?
Increasing bet amounts to achieve the desired excitement level?
Trying unsuccessfully to control, cut back or stop gambling?
Restless or irritable when not gambling?
Gambling to escape problems?
Chasing losses?
Lying about the extent of gambling?
Committing crimes to finance gambling endeavors?
Jeopardizing or losing relationships, jobs, education or career opportunities because of gambling?
Relying on others to relieve desperate financial situations caused by gambling?
Responsible and problem gambling resources in Pennsylvania
Anyone interested in learning more about responsible gambling practices or getting help for problem gambling will find the PGCB a great resource. Plus, the following organizations work directly on issues surrounding responsible and problem gambling in PA:
Council on Compulsive Gambling of Pennsylvania
The Council on Compulsive Gambling of Pennsylvania (CCGP) is a nonprofit organization that's stated purpose is to educate the public, share information with in regards to compulsive gambling and facilitate referrals.
The CCGP has an affiliation with the National Council on Problem Gambling.
The CCGP works toward its purpose by providing speakers, workshops, seminars and information regarding compulsive gambling to business, industry and labor groups, schools and colleges, health care and treatment facilities, and community and religious organizations.
The Council also assists those seeking help with a gambling problem and manages the 24/7, free and confidential Problem Gambling Helpline in PA (1-800-Gambler).
In addition, the CCGP provides support and clinical training for professionals who provide counsel and help people with problem gambling issues.
National resources for responsible gambling
The following national organizations also provide advice and assistance for anyone looking for additional information, help or support with problem gambling issues:
National Council on Problem Gambling
The NCPG's mission is to lead stakeholders in the development of policy and programs for anyone affected by problem gambling. As such, the Council serves as a national advocate for programs and services assisting problem gamblers and their families.
Major NCPG programs include the National Problem Gambling Helpline Network available at 1-800-522-4700 and online at ncpgambling.org/chat. It also runs an affiliated online peer support forum at www.gamtalk.org.
National Center for Responsible Gaming
The National Center for Responsible Gaming claims to be the only national organization exclusively devoted to funding research helping increase understanding and awareness with regards to gambling disorders and youth gambling. It is also dedicated to finding effective methods of treatment.
The NCRG website is a great resource for anyone wanting to learn more about responsible gambling behaviors and ways to talk to children about gambling.
Gamblers Anonymous
Gamblers Anonymous is a national group that provides confidential support for people with a gambling problem and runs local meetings in PA.
PGCB self-exclusion program
The PGCB runs multiple self-exclusion programs. Self-exclusion allows people to request to be excluded from otherwise legal gambling activities at land-based and online casino or otherwise. People who take part in PA self-exclusion programs are prohibited from collecting winnings, recovering losses or accepting complimentary gifts or services from licensed casino operators.
There is a separate self-exclusion list for brick-and-mortar gambling and online gambling. There is also a video gaming terminal (VGT) responsible gaming program.
A player can get on the self-exclusion lists by submitting a completed request in person to the PGCB at its:
The Harrisburg office is located at 303 Walnut St #5, Harrisburg, PA (717-346-8300).
One of the PGCB's regional offices.
A PGCB office in a licensed casino facility.
People can make an appointment by calling the Office of Compulsive and Problem Gambling at 717-346-8300.
No person can place another person on a self-exclusion list. Placement is voluntary and must be done by the individual seeking exclusion. A person can request placement on the self-exclusion list for a minimum of one year, five years or for life.
Once an individual is on a self-exclusion list, licensed PA gambling facilities must refuse wagers from that person and deny all gaming privileges of any kind. The person will be subject to arrest for trespass if they enter any PA gambling facility.
Remember responsible gambling
Remember that gambling should be fun and a source of entertainment. But it can only be these things through responsible gambling practices.
Enjoy yourself, but be mindful of keeping your hobby from becoming harmful. If you or someone you know is struggling with problem or compulsive gambling issues, don't be afraid to ask for help.
The variety of resources mentioned above are available to provide that help.