Live! Casino Pittsburgh General Manager Sean Sullivan has a career unlike anyone else leading a Pennsylvania casino. He is likely the most widely experienced senior gaming exec in PA. His career spans more than forty years and many locations across the US.
A native Californian, Sullivan's family vacations in the Tahoe area early on sorted out his career path in hospitality and gaming.
His newest casino is coming up on a year of operation, making it a good time for a look back at Sullivan's career and the opening of Live! Pittsburgh during the pandemic.
An expansive resume
Sullivan's resume includes an early stint at the Howard Hughes' operation known as Harold's Club in classic downtown Reno.
He hopscotched through Tahoe, Colorado, and Las Vegas, tribal gaming in the Midwest, Pinnacle Entertainment, and Penn National's The Meadows in western PA in 2005.
The Cordish Company recruited him back to PA to open Live! Casino Pittsburgh, the first of what will eventually be five mini-casinos. Cordish bid $40.1 million at auction for the license back in 2018.
Three of the satellite casinos, including Live!, will operate from rehabbed mall spaces. One, Hollywood Casino York, opened in August. The third mall-based casino is near State College. There are also plans for ground-up minis, Hollywood Casino Morgantown, and Parx Shippensburg.
Sullivan tapped by Cordish for Live!
Sullivan joined Cordish in February of 2020, ahead of the casino's opening in late November of that year.
The $150 million 100,000 square foot casino is in a former Bon Ton department store at Westmoreland Mall redeveloped by The Cordish Companies of Baltimore with 750 slots and 30 table games, plus multiple restaurants and entertainment venues with regular country music performances.
The slots at Live! Pittsburgh took in $522.6 million in wagers during their shortened first fiscal year, a year defined by COVID-19, which crimped in-person casino play and made hiring an ongoing challenge.
But Sullivan remains excited about entertaining patrons, never setting the alarm, eager for more work.
On the gaming floor with GM Sean Sullivan
PlayPennsylvania began a more than 30-minute interview on the floor of Live! with the obvious – Sullivan's staying power during forty years of gaming evolution from Nevada to across the USA. This interview has been edited for length and clarity.
What's the secret to your longevity?
"I have been in the industry a long time. I came straight out of college. I'm in my 41st year. Being excited about coming to work every single day is part of that. I'm highly motivated because I enjoy the job. I enjoy interacting with customers, with our team members. I haven't set an alarm clock in more than 40 years, I wake up and jump out of bed, and I come to work because I can't wait to get here. And it is all about the good things that happen working with the Cordish family.

"I have had tremendous opportunity over the years with mentors that gave me the excitement and enthusiasm by their behaviors and the things that they taught me. I've learned something new every year. I've never come to work and said 'I already experienced all that, I already know all that.' Every year I learn new things.

"The industry is full of twists and turns, challenges… I love competing, doing the best we can for all shareholders."
Live! Pittsburgh was the first satellite casino in PA
What were the challenges of opening the first mini-casino in PA? There was no template.
"Mini-casino is probably not the most appropriate title because when people come to a casino they don't necessarily roam the entire property anyway. People carve out their little comfort zones where they like to play. Some pick near restrooms, some pick near the front entrance, some pick near the players club. Everybody is having a mini-casino experience whether they are at a big property or not.

"If anything, the opportunity we have with a smaller property, a Category 4 property, is the energy, the intimacy. When we are busy, it is absolutely infectious with excitement. You hear people winning, you hear machines going off. Big casinos don't necessarily give you that experience.

"It's like going into a restaurant. You always feel better if the tables are full. And if you have too big of a restaurant, you're not going to have full tables. Perception is important."
He pointed out the average visit to his casino is about 90 minutes long, and the average person wagers $75 to $80 per visit.
Turning a mall into a mini-casino
What was it like to create a gambling experience in an already defined space, an empty anchor space in a mall?
"I have to give all credits and props to the Cordish family. They're developers, right. They've done this in Maryland with the Anne Arundel Mall and they see a vision most people do not. They saw an old Bon Ton building and they thought what a fabulous opportunity.

"They designed this building. And this build was not easy. When you take an old building, and build into it, it's a different approach. Different from building from the ground up. They's done a fabulous job. The thing I hear all the time is people saying, 'Oh my gosh, I can't believe that's the old BonTon building.' They didn't scrimp on anything.

"That's about design, that's about vision, that's about a family that's gonna do the right thing for the community."
COVID challenges
He said opening a casino, no matter the size, "is similar in many ways."
But what most distinguished the opening of Live! Pittsburgh was the many challenges presented by COVID-19, such as getting slot chairs made in Turkey and chips manufactured in Japan delivered to western PA on time.
Rehabbing an older building was sometimes "scary as can be," but he said the team worked through it, and the space got redone "on time and under budget."
Tribal gaming is different
Do tribal casinos differ from traditional casinos? Sullivan has worked at Treasure Island in Minnesota, operated by the Prairie Island Indian Community of the Sioux.
"When you work for tribes, it's very personal. I actually lived with the elders on the reservation while I was up there and you're talking to people who have an amazing journey of the past, right, from living in difficult conditions when we talk about American Indians.

"What you are doing is working for them, you are working to have a better life if you will. You are managed by a tribal council. You are working for seven tribal council members that aren't necessarily experienced in any way, shape or form of gaming. You're really always educating. Always training and teaching that this is the right approach to things, you know.

"I think over the years tribal gaming has developed into a force. It's amazing how many tribes are in the business of gambling."
Online and brick-and-mortar casinos
How do you plan to compete in a crowded brick-and-mortar and online market? How do physical casinos work with online options?
"We're always being challenged to provide more entertainment. And I think online options, sports betting have different demographics. Slot players and table game players are completely different. Online gamers and sports bettors are showing some native attributes and desires.

"Online became hugely important during COVID. People just didn't want to leave the house, right? The industry is doing extremely well right after COVID and we're happy to see it."
Sullivan's secret sauce?
Sullivan believes a property is "not a casino, but an entertainment destination."
And he sees his role as serving as the head coach for his team at Live!:
"The Cordish casinos are entertainment destinations that have the gambling component. I've learned over forty years that's the secret to success, providing entertainment. Give 'em a good time, give 'em a fair value, and give 'em great friendly service.

"That's what makes us different. It's about treating people better than they expect to be treated."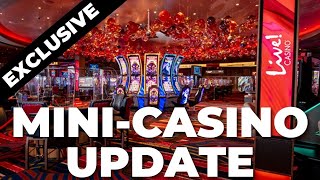 Photo of Sean Sullivan c/o Live! Casino Pittsburgh