Pennsylvania Lottery customers have a box of new toys to play with this year. Stemming from approvals written into the 2017 gaming package, the lotto has begun to expand its library of games and products.
Keno was the first, rolling out to the network of retail locations across the state last week. Hundreds of bars and shops now offer the casino-style game, which is broadcast on a networked monitor and scored with pencils. Online lottery will debut in the coming months, too, featuring games more similar to Candy Crush than Powerball.
Virtual sports betting will be next, though. This week, Inspired Entertainment announced a partnership with the PA Lottery to provide its award-winning product to the retail market.
Already a popular way to gamble abroad, virtual sports betting is just beginning to take hold in the States. Pennsylvania will be the second US market to offer the game, joining New Jersey.
Executive chairman Lorne Weil offered his thoughts on the partnership via a press release:
"We are delighted to announce this key milestone for the Pennsylvania Lottery and Virtual Sports fans in the state.

Through an integration with the Lottery's gaming system, we're introducing the thrill of Virtual Sports betting for the first time to Pennsylvanians, and we're gratified to have been chosen by the Pennsylvania Lottery to deliver these new gaming entertainment products to its valued players with our high quality Virtual Sports graphics and animation."
Patrons will see the product branded as Xpress Sports in the PA market.
PA Lottery + virtual sports
The launch integrates the products of Inspired Entertainment and Scientific Games, which provides the lottery's gaming platform.
Like Keno (and actual sports), virtual sports require a TV monitor to "broadcast" the simulated games. Many of the retailers that want the product are sports bars with an array of existing screens, but the lottery will come install an extra one if need be.
Football and auto racing will be the first virtual sports to debut in PA, with more expected as time goes on. Games and races begin every few minutes, presented in a condensed format with no lull in the action. Each sport runs on a dedicated channel, so retailers can offer both alongside each other.
Here's a video from Inspired showing the football product: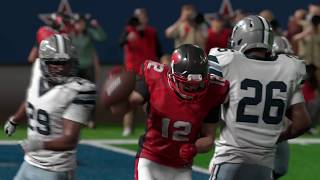 It's like betting on a video game.
Virtual sports are fairly new, and they're generating astounding interest in existing markets. Inspired now has partnerships with almost 100 operators, up from around 80 this time last year. In its UK home, virtual sports make up around 30 percent of the total betting handle for sportsbooks.
Pennsylvania's lottery network consists of nearly 10,000 retail locations, each of which can request to offer the product. Virtual sports betting should go live in June if things go according to plan.
More about Inspired Entertainment
Inspired is one of the leaders in the space, building an acclaimed platform for virtual sports betting. That platform has introduced the product into several new markets, including New Jersey. Six NJ online casino operators now offer virtual sports betting:
MGM
Golden Nugget
Caesars
Resorts
Rush Street Interactive
Betfair
As the US market continues to expand, Inspired expects to be along for the ride. COO Brooks Pierce said the PA Lottery partnership is part of a larger roadmap in the US.
"We are proud to be a leader in global Virtual Sports innovation, and we look forward to introducing new market-specific products, including 1st Down Virtual Football, to the Pennsylvania Lottery's players.

This announcement signifies an important milestone in Inspired's North American strategy and we look forward to building upon it in the future."
According to the press release, Inspired provides virtual sports to around 40,000 retailers and 100 websites across 35 jurisdictions. The UK-based company employs about 800 people worldwide.
Photo by action sports / Shutterstock.com