Just because the Mega Millions jackpot recently hit doesn't mean that the Powerball jackpot stopped growing. The two jackpots had been growing pretty much hand in hand for a while until the Mega Millions jackpot hit on Friday, July 24.
For Wednesday, July 29, the Powerball estimated jackpot swells to $126 million, with a cash payout value of $103.6 million.
As a recap, the winning numbers for Saturday, July 25, were 5 – 21 – 36 – 61 – 62 and Powerball 18, with a Power Play multiplier of 2X.
Splitting a $22 million Powerball jackpot after a 1992 handshake
In Menomonie, Wisconsin, two friends officially split a $22 million Powerball jackpot that hit in the June 10 drawing. Back in 1992, Thomas Cook and Joseph Feeney shook hands on a promise that they would split the winnings if one of them ever hit a Powerball jackpot.
According to Feeney, who is an avid fisherman, he exclaimed, "Are you jerking my bobber?" when Cook notified him of the life-changing news. The friends chose the cash option of $16.7 million, or $5.7 million each after splitting the cash and paying federal and state taxes.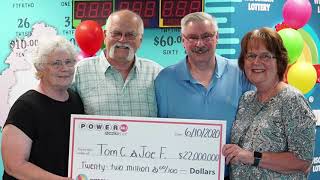 Buy Powerball tickets online through the PA Lottery
Why not try out the PA iLottery? In fact, you don't even need to be a Pennsylvania resident. If you're physically located within the borders of the Keystone State, you can purchase PA lottery tickets online.
By signing up below, new players are welcomed with lucrative offers, such as $20 in bonus money for new player accounts along with a first-time matched deposit bonus up to $250.
Claim Your Free $20 at PA iLottery!

Up To $500 Bonus On First Deposit!

Instant Win Games!
Bonus Code: PLAY20
Winning Powerball numbers for Saturday, July 25
Powerball drawings take place on Wednesdays and Saturdays at 11 p.m. EST. The winning Powerball numbers are listed here after the drawing.
Winning numbers: 7 – 29 – 35 – 40 – 45, Powerball 26
Multiplier: 2X
We always wish you the best of luck and continuously encourage responsible gaming. Check out the PlayPennsylvania page for more responsible gambling resources.