JJ Arcega-Whiteside could never quite escape the ire of Philadelphia Eagles fans. He was selected seven spots a head of D.K. Metcalf in the 2019 NFDL Draft. Metcalf developed into star wide receiver for the Seattle and recently signed a 3-year, $72 million contract extension. JJAW entered Eagles training camp on the roster bubble and was traded on August 15 to Seattle.
In 40 games with the Eagles, JJAW only had one touchdown. A severely underperforming second round pick whose mother once held an umbrella to shield him from the sun, he was picked apart for every misstep by Eagles fans.
Cameron Mays, a lifelong Philadelphia Eagles fan, had a different reason to be frustrated with JJAW. Mays placed a $20, 3-leg same game parlay on the Eagles vs. Cowboys game on Jan. 8. A dropped pass by Arcega-Whiteside resulted in over $10,000 slipping through Mays' fingers.
The parlay
The last game of the 2021 regular season had little meaning for the Philadelphia Eagles so they rested the starters. The Dallas Cowboys were playing for seeding in the NFC Playoffs and went on to beat the Birds. 51-26.
Mays, a lifelong Eagles fan from Virginia, placed a same game parlay at FanDuel Sportsbook prior to the game on January 8. He doesn't usually wager on the Philadelphia Eagles but he did for the Week 18 game.
"I was only betting on them (the Eagles) for that specific game because I knew it was the type of game where the Eagles didn't have to put a lot of pressure on themselves that specific week," commented Mays. "JJAW was in the parlay because I knew the coaching staff would allow the other wide receivers get some valuable time with some players resting that week. I knew they (coaching/organization) wanted to see JJAW (play) to see if they wanted to keep him on the roster for next year."
The $20 parlay included
Dalton Schultz to score 2+ TDs
Cedrick Wilson anytime TD scorer
JJ Arcega-Whiteside anytime TD scorer
Cedrick Wilson caught a TD pass in the first quarter. Dalton Schultz hauled in two catches for touches with less than 1:45 remaining in the first half.
In a game that the Eagles weren't trying to win, with a wide receiver who only had one career touchdown, Mays asked for a miracle.
"I'm going to need JJAW to somehow get a tuddy in the 2nd half," he tweeted.
JJAW's drop
Mays didn't have to wait long for the Eagles backup quarterback Gardner Minshew to answer his plea. With 6:10 left in the third quarter, Minshew hit JJAW between the numbers in the end zone and…he dropped it.
"I collapsed to the floor. I was numb," said Mays.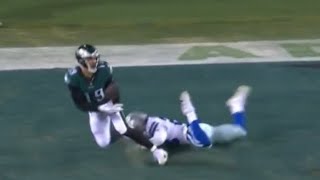 Sports betting Twitter shows support
Eagles fan took to Twitter with yet another cause for disappointment in JJAW. At 10:20 p.m. that night, Mays replied to an Eagles Nation tweet that said "I am so sorry to whoever took our JJAW TD betting advice" with his betslip.
What followed was an outpouring of support that was as heartfelt as condolences on receives when a loved one passes.
"I wasn't surprised, cause I knew some people would feel the same exact feeling I felt during the moment. Plus, I needed some emotional support from the best fan base in football."
A new Philadelphia Eagles and betting season
Arcega-Whiteside was traded to the Seattle Seahawks on August 15 for defensive back Ugo Amadi. JJAW and Metcalf are now teammates.
In an interview withPlayPennsylvania on Monday, Mays says he hopes JJAW gets used correctly in Seattle.
"I still like his frame, and he does some good things especially in run plays."
Yes, he does get flashbacks of the play – Minshew lofting the ball in the air, Steve Levy's voice "looking for the endzone and it's dropped.."
"I laugh about it now, but deep down it still hurts," said Mays.
The Eagles win total at BetMGM Sportsbook in Pennsylvania has moved from 8.5 to 9.5 with the over juiced to -130. As a fan, Mays has high expectations for the Eagles
"I can see something special happening with them."
Is there any particular season-long player prop he is eyeing?
"The safe bet would be AJ Brown."
Lead image Matt Slocum/AP