Super Bowl LV is two days away.
Pennsylvania is now home to 13 sports betting apps which are filled with hundreds of ways to bet on the big game.
Let's go into a "two-minute drill" and get to the good stuff – the promos (for new users and for current ones), the props, and some of the betting markets that you might have missed at first glance.
Super Bowl 55 details:
Kansas City Chiefs (1) (AFC) (14–2) vs. Tampa Bay Buccaneers (5) (NFC) (11–5)
Feb. 7 at 6:30 p.m. EST
Raymond James Stadium, Tampa, Florida
Latest Super Bowl 55 odds at PA sportsbooks
Opening lines for Super Bowl LV put the Chiefs as 3-point favorites with the total points at 56. Chiefs quarterback Patrick Mahomes is the favorite to win Super Bowl MVP.
Here are updated Super Bowl odds in PA:
New user promotions at PA online sportsbooks for Super Bowl LV
Risk-free first bet up to $600.
Bet $1, win $100 if the team you bet on wins the Super Bowl
Bet $1, win $100 if Tom Brady throws a touchdown
Place a $25 one-game parlay wager on the Super Bowl and receive a $10 free bet (for all users)
Big game no-brainer: Double your money if a TD is scored in Super Bowl LV. Make a deposit of $5 and you will be given a single use odds boost for any team to score a TD. Max bet $50.
Deposit bonus: Get a 20% deposit bonus up to $1000.
Big game odds boost: Bet $5 to win $275. Download FanDuel and make your first deposit (min. $10). Place your first bet on the Chiefs vs. Buccaneers moneyline.
Receive a 100% bonus match on your first deposit up to $300.
Big game bundle welcome offer: Get 2x $250 risk free bets, $20 in free bets, and a $21 free live bet. Your first two bets after depositing will qualify.
Current user promos at PA online sportsbooks for Super Bowl LV
BetMGM:
Bet $25 and get a $10 free bet: Opt in and place a $25 one game parlay wager and get a $10 free bet
DraftKings:
Big game profit boost: Boost your profits 25% on featured Super Bowl LV props like total points (odd even), either team to have a successful two-point conversion, first team to score, Mahomes to throw 3+ pass TDs and Chiefs win, Brady to throw 3+ pass TDs and Buccaneers win.
Big game live bet boost: Get a 25% live profit boost to use for a live bet during Super Bowl LV. Max bet $25.
FanDuel:
Same game parlay insurance: Place a same game parlay of at least three legs on the Kansas City Chiefs vs. Tampa Bay Buccaneers. If you hit all legs except one, get $25 back in site credit.
Big Game Bingo: Claim your free card that has 24 Super Bowl LV props and a free square in the center. The card automatically marks the square for every prop that hits. Tap BINGO to win. All you have to do is call BINGO when you fill 5 squares in a row to see if you win. (full list of rules and prize payout listed on app)
Unibet:
$21 free: $21 free live bet during Super Bowl LV
Touchdown bonus: Get a $1 bonus for every point your team scores
Super Sized Sunday: Bet the spread and get a $2 casino bonus for every touchdown.
QB touchdown bonus: Get $6 in a free bet for every touchdown your QB throws
Blackjack boost: Get a $10 bonus when you play Eagles Blackjack and wager $100 or more.
Super Bowl LV props and novelty betting
There are hundreds of Super Bowl LV betting markets at PA online sportsbooks.
The most popular are point spread, moneyline, and total points.
If you want to see what betting markets are "popular" at a sports betting app, just tap on the game and the markets are listed.
Here are some betting markets that are getting the attention of bettors:
Coin toss outcome
First play
TD scorer
Passing yards
TD passes
Rushing yards
Alternate spread
Tom Brady passing yards
Patrick Mahomes passing yards
Novelty Super Bowl props
Novelty props are an additional option for bettors. At regulated sportsbooks you will not find action on things like "what kind of mask will Andy Reid wear" and "what team will Biden pick to win."
Super Bowl prop bets available in PA:
Coin toss
Coin toss outcome
Coin toss winner
Player to correctly call opening kick off coin toss
To win coin toss and game
First play
Trick play specials
Score specials
Fat man TD
First drive
Doink Special (any field goal or extra point to hit uprights or crossbar)
Kickoff specials
Super Bowl specials
Jersey number props
Sorry, Pennsylvania Super Bowl bettors. Betting on what color Gatorade will be poured on the winning coach is not permitted in PA. However, you can wager on it in New Jersey.
Someone tell Grandpa Simpson the Super Bowl made it
In a Season 7 episode of The Simpsons, there is a flashback to Abe Simpson (Grandpa Simpson) watching Super Bowl III. His wife, Mona, came to talk to him but he wasn't having it.
"I'm trying to watch the Super Bowl. If people don't support this thing, it might not make it."
Well, Grandpa Simpson, the Super Bowl has "made it."
23.2 million Americans plan to bet a total of $4.3 billion on this year's Super Bowl according to new American Gaming Association (AGA) research.
A record 7.6 million will bet with online sportsbooks this year, up 63% year-over-year. For Pennsylvania, it will be the second Super Bowl that bettors will be able to wager on sports betting apps.
"This year's Super Bowl is expected to generate the largest single-event legal handle in American sports betting history," said AGA President and CEO Bill Miller. "With a robust legal market, Americans are abandoning illegal bookies and taking their action into the regulated marketplace in record numbers."
"Fun" Super Bowl bets
In the festive spirit of the Super Bowl holiday, here are some "fun" prop bets.
BetMGM:
Buccaneers to score 3+ points in each quarter +170
Chiefs and Buccaneers to both score 28+ points +225
Tyreek Hill to record 80+ receiving yards and to score 1+ TDs +150
Position of Super Bowl MVP: Offense (-1200)/Defense (+750)
Cross game match bet, which will be higher?
Tom Brady passing TDs (+100) or Claude Giroux shots vs. Boston Bruins on Feb. 5 (-120)
Cross game match bet, which will be higher?
Mahomes rushing yards (-125) or Total Bundesliga goals on Feb. 6 (+105)
FanDuel:
Dave Weaver Super Bowl Prop: Any QB to throw for 6+ TDs (Yes +1000/No -3000)
Will there be a scorigami (unique final score in NFL history): Yes +1100/No -1400
Total interceptions: Over 1.5 (+120)/Under 1.5 (-155)
DraftKings:
100+ Receiving yards and win: Tyreek Hill (Yes +200); Jason Kelce (Yes +190)
Total number of players to have a pass attempt (Over 2.5 +170/Under 2.5 -22)
Either team to be shut out (+5000)
Either team to score a special teams touchdown (Yes +550/No -910)
Gronkowski 69 "special":
DraftKings: Gronkowski to record 69+ receiving yards boosted from (+300) to +330
Barstool Sportsbook: Gronkowski to record 69+ receiving yards and score a TD boosted from (+650) to +690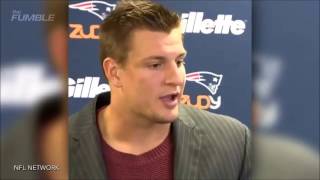 Eagles and Steelers betting
The two PA "home" teams aren't in the big game but it doesn't mean there isn't a way to bet on them.
Next year's odds for the Super Bowl, AFC winner, and NFC winner are posted at PA sports betting apps.
The Pittsburgh Steelers started out 11-0 which historically meant a trip to the Super Bowl seemed like a sure bet. Since 1970, nine of the eleven teams that started with 11-0 made it Super Bowl. However, the Steelers sputtered and their season ended with a 48-37 loss in the Wild Card Round to the Cleveland Browns.
Pittsburgh Steelers 2021-22 odds
Super Bowl LVI (2022): +3000
AFC winner: +1400
The Philadelphia Eagles may steal some Super Bowl headlines if they decide to trade quarterback Carson Wentz this weekend. The word on Wentz from "blue-check" sources:
Philadelphia Eagles 2021-22 odds
Super Bowl LVI (2022): +5000
NFC winner: +2500
Lead image credit: AP Photo/Jeff Bottari