It's been a long time since the Philadelphia Flyers had a difference-making goaltender.
In the playoffs, the Flyers have long been on the other end of a goaltender standing on his head to steal a series. Perhaps the Flyers' fortunes between the pipes have changed. Since the NHL restarted its season, Carter Hart is 6-2 with a .943 SAA, 1.71 GAA and two shutouts.
Future is bright for Flyers goalie Carter Hart
Hart has made NHL bettors and PA online sportsbooks take notice. When play resumed, the Flyers were +1000 to win the Stanley Cup. At the start of their Round Two matchup against the New York Islanders, the Flyers are now +600.
Hart's own chances for some personal hardware have improved too. He went from +5000 to win the Conn Smythe to +800.
Stick taps for Carter Hart. Here are just some reasons the Flyers might possibly/hopefully/finally have found their franchise goalie.
Hart-stopping saves
Save of the season nominee right here.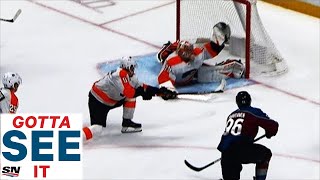 Right mindset
Hart started working with goalie coach John Stevenson when he was 10 years old. Stevenson has a master's degree in sports psychology and still works with Hart. Hart joined the Flyers in 2018 at 20 years old. He credits Stevenson with helping him find and develop the tools to play in the NHL two years after being drafted.
In an interview with the Courier Post, here is what Stevenson said about Hart:
"All my goalies learn this phrase: 'I have no future. I have no past. My goal is to make the present last. I'm right here, right now.' So whether you're up 2-0 or down 2-0, it has no bearing on the play that's happening right in front of you right now. Carter has that ability to just be in the moment. He really works on it on and off the ice, and he has that ability to let go and get back in the present moment. That's something that he's really, really worked on."
He calls when he says he will
Hart calls his father the night before every game. And a special lady, his mother, has a once per week FaceTime date with him.
He doesn't just keep in touch with his family. Hart bought 79-year-old Parker Fowlds, who hosted him when he played for the Everett Silvertips, an iPhone so they can talk, too.
Carter is all heart
A goalie wearing No. 79 seems a bit odd. But there is a reason Hart has the number.
When he was a 16-year-old playing for the Silvertips in the Western Hockey League, Connor Parkkila, a seven-year-old autistic boy, and Cavan, a six-year-old, were both at every Everett home game offering high fives at the tunnel. After returning from his first Flyers developmental camp during which he wore No. 79, Hart saw Connor wearing the same jersey.
"I probably would have stuck with No. 70, because that was my number in juniors. But because Connor had the Hart No. 79 Flyers' jersey on, I realized I couldn't change the jersey number now. I didn't think Connor would have been too happy if I had the wrong jersey with the wrong number on the back. Because it was Connor, he was one of our biggest fans and it was really cool how much love Connor and Cavan gave us. To them, they're 6, 7 years old, they look up to us. I couldn't let them down."
Connor and his mom talk about Carter's influence in this NBC Sports Philadelphia video.
He's friends with Gritty
Two franchise-altering figures, Hart and Gritty, joined the Flyers in 2018.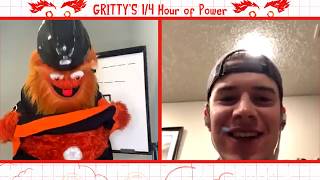 Best tweets about Carter Hart