The Kentucky Derby is horse racing's signature event. It's traditionally held on the first Saturday in May, but the events of 2020 have pushed back this year's "Run for the Roses" to the first Saturday of September.
Although there will be no fans in the grandstands at this year's race, there will still be millions of hopefuls watching the second-most heavily bet sporting contest of the year from the comfort of their living room couch.
Many potential new bettors miss out on this exceptional wagering opportunity because they don't understand how to make a horse racing bet.
This article will explain to the aspiring bettor how to bet one of three different tickets at three different risk levels with a $20 bankroll.
Getting started on betting the Kentucky Derby online in PA
The first step to betting the Kentucky Derby is to download and open an account on a legal-in-Pennsylvania online wagering app like PABets (TVG) or FanDuel Racing.
Once you have opened and funded your account, find the Churchill Downs racetrack on the app. There are 14 different races going off on Derby day. To wager on the Kentucky Derby itself, select Race 14 on the Saturday, Sept. 5, card.
In addition to a risk-free bet of up to $300 for new customers, PABets is offering money back (up to $10) on your first win bet should your horse place second or third.
Get a $100 No Sweat Bet at FanDuel Racing
$100 NO SWEAT BET
Bet on Horse Racing
Up to $100 Back if Your First Bet Doesn't Win
Get Boosted Odds & the Best Promotions

Easy Deposits, Fast Withdrawals
To Claim: Click Play Now

Types of Kentucky Derby bets
The three different types of bets we will discuss are the win bet, exacta box and superfecta. The win bet generally presents the least amount of risk of the three unless placed on a long shot. The superfecta is the most difficult to hit but presents the opportunity for the biggest score.
The win bet
Self-explanatory in nature, the win bet simply requires you to pick the winner of the race.
Live odds are available for each horse's number. Tiz the Law is the heavy favorite in this year's Derby and is horse number 17.
Just because Tiz the Law is the heavy favorite does not necessarily mean you should bet him to win. The key to effective handicapping is finding value. If everyone is betting Tiz the Law, the payoff for a win bet on him will be relatively low.
Consider this scenario: You decide you want to put a $20 win bet on the race. You really like Tiz the Law, but you see that his payoff line is 3/5 at post time. This line represents a payout of $3 for every $5 wagered; consequently, a $20 win bet on Tiz the Law would only yield a $12 profit in this scenario.
Of course, if you think Tiz the Law is a lock to win, you shouldn't let that price discourage you from making the bet. If you think he has less than a 60% chance of winning, however, then you should look for a value play elsewhere. For example, a horse with a payout line of 10 would pay $10 for every $1 wagered.
The exacta box
An exacta bet requires you to pick the top two finishers in the race. Big fields like the Kentucky Derby offer great exacta payout opportunities because there are so many different combinations of horses that can finish in first and second.
An exacta "box" bet means that you are simply buying up all the first/second finish combinations for your selected horses.
With our $20 bankroll, we could exacta box five horses in the race with a $1 minimum bet increment, and it would cost exactly $20 (there are 20 different first/second combinations in an exacta box with five horses).
With this bet, you could select one or two top contenders, a couple of mid-shots with a reasonable chance at cracking the top two, and maybe one long shot that you think might have some magic in him on this day.
Exacta payouts in the Derby regularly pay in the hundreds of dollars and sometimes exceed $1,000. When making this bet, root for your selected horses with the highest odds to come in top two, as the payout will be much greater than if the favorite comes in.
Country House shocked the Derby field last year by winning the race after going off as a 65/1 long shot. Combine that with second-place finisher Code of Honor, who had odds of 14/1, and you have a $1 exacta box ticket that paid over $1,500.
The Superfecta
The superfecta requires you to pick the top four finishers in order. Unlike the exacta, it is usually inefficient for your bankroll to box a superfecta.
The minimum bet increment for a Kentucky Derby superfecta is $0.10. This allows you to make a shotgun spread of bets on a $20 ticket using a "wheel bet" concept.
An efficient $20 wheel ticket could look something like this:
Position 1: Horses 1, 2
Position 2: Horses 1, 2, 3, 4, 5
Position 3: Horses 6, 7, 8, 9, 10
Position 4: Horses 6, 7, 8, 9, 10, 11
This ticket would cost exactly $20 when using the minimum $0.10 bet increment. It also allows you to key horses you like at the top so you can throw more darts at the crapshoot that is the fourth position.
Superfecta payouts in the Kentucky Derby can be massive. The $0.10 minimum superfecta is new to the 2020 Kentucky Derby (the previous minimum bet was $1). The lowered minimum allows new players to take shots at a big prize pool on the cheap.
The 2019 Derby $1 superfecta paid $51,400. So it stands to reason that if the $0.10 minimum bet had been available, it would have paid around $5,140.
Choose your risk and place your Derby bet
You can't go wrong with any of the three betting options presented here. Hopefully, if you are an aspiring bettor, you now have a better understanding of how to get into the action.
We encourage you to open an account and take part in the greatest two minutes in sports … You can't cash 'em if you don't pick 'em!
For more tips on placing your first Kentucky Derby bet, check out this coaching video from our sister site, PlayUSA.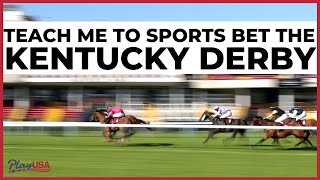 Kentucky Derby 2020 odds
| Current Rank | Horse | Jockey | Odds: William Hill, Apr. 14. |
| --- | --- | --- | --- |
| 1 | Essential Quality | Luis Saez | 3-1 |
| 2 | Known Agenda | Irad Ortiz Jr. | 5-1 |
| 3 | Rock Your World | Umberto Rispoli | 5-1 |
| 4 | Concert Tour | Joel Rosario | 10-1 |
| 5 | Hot Rod Charlie | Flavien Prat | 10-1 |
| 6 | Medina Spirit | John Velazquez | 14-1 |
| 7 | Highly Motivated | Javier Castellano | 14-1 |
| 8 | Mandloun | Florent Geroux | 18-1 |
| 9 | Midnight Bourbon | Mike Smith | 25-1 |
| 10 | Soup and Sandwich | Tyler Gaffalione | 32-1 |
| 11 | Super Stock | Ricardo Santana, Jr. | 35-1 |
| 12 | Helium | Julien Leparoux | 35-1 |
| 13 | Dynamic One | Jose Ortiz | 45-1 |
| 14 | Bourbonic | Kendrick Carmouche | 70-1 |
| 15 | Caddo River | Florent Geroux | 75-1 |
| 16 | Rombauer | undecided | 75-1 |
| 17 | Sainthood | Gerardo Corrales | 75-1 |
| 18 | Like the King | Drayden Van Dyke | 80-1 |
| 19 | Hidden Stash | Rafael Bejarano | 85-1 |
| 20 | O Besos | Marcelino Pedroza | 100-1 |