We're right in the middle of March Madness action and that means it's time for the 4th annual Battle of the Books Championship. The past three years the tournament consisted of NJ sportsbooks, but this year we're giving PA sportsbooks the chance to shine in our 2022 Battle of the Books.
What is the Battle of the Books?
Battle of the Books is a March-Madness style tournament in which all the current PA sports betting apps face off to see who the online community (that's you) chooses as the 2022 "People's Champion" of Pennsylvania sports betting apps.
This is a single-elimination tournament and all the voting will take place using Polls on the PlayPA Twitter account.
To get a better idea of how we crown the winner, check out the promo video from 2021.
(Remember we're not including NJ books this year, video is just for reference):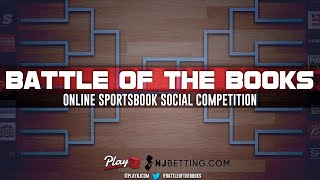 How to Enter:
Follow the steps below to be entered into prize drawings for a chance to win free bets from several of the top PA sportsbooks.
Visit: www.twitter.com/PlayPANews and follow us
Check out the latest #BattleOfTheBooks poll on our feed
Each poll will take place 11:00 am – 4:00 pm EST on scheduled day
Vote for the sportsbook you want to see move on to the next round
LIKE the poll post.

(If you don't like the post, we won't know you voted)

RETWEET the poll post
And that's it. You're entered to win the prize in that specific voting matchup.
How to Win:
At the conclusion of each matchup, we will spin a wheel made up of all the voters for that round & randomly select winners.
Each winner will then receive a DM from us with how to claim their FREE BET
You can vote on every match in every round, for the maximum chances to win (up to $1,000 in free bets).

So make sure you follow our PlayPA Twitter page
And turn on the notifications for our page so you'll be notified each time we start a new poll.
Again, in order to enter, you must place your vote, LIKE & RETWEET the post!
PA Sportsbook Tournament Schedule:
(Updated: November 29, 2023)
Each poll takes place: 11:00 am – 4:00 pm EST
Round 1:
Tuesday, March 22, 2022: (2 matchups / 2 separate polls)
Unibet Sportsbook PA (4-seed) vs SugarHouse Sportsbook PA (5-seed)
Caesars Sportsbook PA (4-seed) vs BetRivers Sportsbook PA (5-seed)
Wednesday, March 23, 2022:
PointsBet Sportsbook PA (2-seed) vs Parx Sportsbook PA (7-seed)
Thursday, March 24, 2022:
Barstool Sportsbook PA (3-seed) vs Betfred Sportsbook PA (6-seed)
Friday, March 25, 2022:
FOX Bet Sportsbook PA (3-seed) vs Betway Sportsbook PA (6-seed)
(FanDuel, BetMGM & DraftKings Receive 1st round BYES)
Round 2: Elite Eight
Monday, March 28, 2022:
BetMGM Sportsbook PA (1-seed) vs TBD
Tuesday, March 29, 2022:
DraftKings Sportsbook PA (2-seed) vs TBD
Wednesday, March 30, 2022:
FanDuel Sportsbook PA (1-seed) vs TBD
Thursday, March 31, 2022:
Friday, April 1, 2022:
Round 3: Final Four
(TBD)
Round 4: 2022 BOTB Finals
(TBD
---
Must be 21 years or older to wager on sports in the state of Pennsylvania. Gambling problem? Call 1-800-GAMBLER.