Hey, have you heard, hun? Aunt Mary Pat is setting up residency at Rivers Casino Philadelphia.
After a sold-out holiday tour at the Philadelphia casino, the Delaware County comedian is keeping the "party, party, party" going.
"Rivers Casino is Aunt Mary Pat's home away from home," said Justin Moore, general manager of Rivers Casino Philadelphia. "Tickets sell out fast and we're thrilled to give fans more chances to see her in The Event Center."
Aunt Mary Pat at Rivers Casino Philadelphia
Tickets for Aunt Mary Pat's shows at The Event Center at Rivers Casino are on sale now for $20. All shows start at 7 p.m.
Show dates are:
March 23
May 18
Sept. 28
Dec. 14
"I love performing at River's Casino! Our sold-out holiday tour was amazing there," said Aunt Mary Pat. "I can't wait to bring my new tour back in March. See you there!"
In February, she started her "Assholes Across America" tour.
Who is Aunt Mary Pat?
Aunt Mary Pat went viral after posting a video after the Eagles Super Bowl 2018 win because she had to work at the deli at Acme since everyone called in sick to go to the parade. A die-hard Delco Iggles fan, she has since performed over 1oo shows and released a debut comedy album "Talk of the Township." It hit No. 5 on the iTunes comedy charts. She recently put out a Christmas album called "Mary Friggin Christmas." Last year she started her first national tour "The Fish Outta Wooder Tour."
Aunt Mary Pat's show is a mix of stand-up comedy, improv, and variety. Her comedy touches on working at Acme (Ack-a-me), her asshole daughter, the Eagles, Wawa, and other aspects of life in Delco and Philadelphia.
Eagles, snacks and the holidays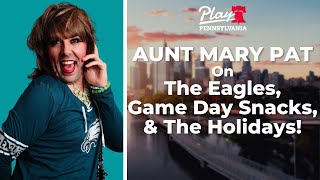 Lead image AMP Facebook page